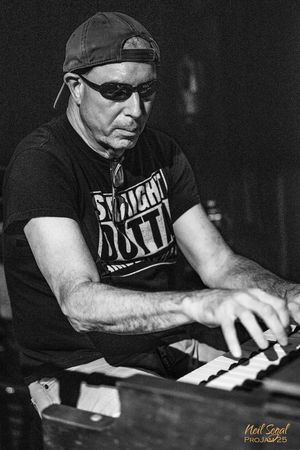 The John Flynn Story
Singer songwriter John Flynn is a seasoned trombone slinger, keyboardist and native New Jerseyan, who has rocked the Northeast in a slew of bands. John's hooks, hot licks, punchy horn blasts and soulful piano bites complement his expressive, honest, and gritty vocal deliveries. Currently writing and recording original music at Thunder Pumpkin Records and performing with his band the Shackers at music events in New Jersey and Pennsylvania.
"Bouncing around the jam band scene has taught John how to stand out in a crowd as well as just carry a groove when the song demands it.  He went out and recruited some talented friends to perform his original high energy music incorporating influences from rock, soul, reggae, post-punk, and ska.  Adding some witty and lyrics has created a style that is all John's own". indiebandguru
Music has always been part of my life but like most I turned away from it in college so I could have a more practical way of making a living. I started playing the trombone around 10 and always had a piano which I taught myself based on my education in music theory. Even when I was working for the man I would love to sit down and play. Either I would try to learn songs I heard or created chord progression that sounded cool to me. Later I started writing things down and creating songs. I did this as a hobby with no real illusion of recording or playing them live. Even playing for years in working bands it never seemed the right fit. I met a local musician and recording engineer who encouraged me to record my music. After my first recording with him I was bitten by writing and recording bug and have recorded over 20 songs. It's now part of me and I enjoy the creative process. It's what I have to do.
Currently I'm recording my originals with the goal of getting my music licensed and pushing to perform at larger musical events to gain increased exposure for my music.