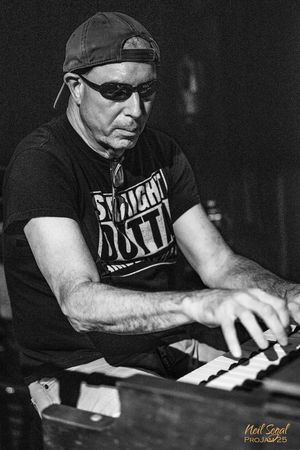 The John Flynn Story
Singer songwriter John Flynn is a seasoned trombone slinger, keyboardist and native New Jerseyan, who has rocked the Northeast in a slew of bands. John's hooks, hot licks, punchy horn blasts and soulful piano bites complement his expressive, honest, and gritty vocal deliveries. Currently writing and recording original music at Thunder Pumpkin Records and Hopetown Sound while performing with his band "The Shackers" at music events in New Jersey and Pennsylvania.
Music has always been part of my life but like most I turned away from it in college so I could have a more practical way of making a living. I started playing the trombone around 10 and always had a piano which I taught myself based on my education in music theory. Even when I was working for "the man", I would love to sit down and play. Either I would try to learn songs I heard or created chord progression that sounded cool to me. Later I started writing things down and creating songs. I did this as a hobby with no real illusion of recording or playing them live. Even playing for years in working bands it never seemed the right fit. I met a local musician and recording engineer who encouraged me to record my music. After my first recording with him I was bitten by writing and recording bug and have recorded over 20 songs. It's now part of me and I enjoy the creative process. It's what I have to do.
Currently I'm recording my originals with the goal of getting my music licensed and pushing to perform at larger musical events to gain increased exposure for my music.  
 See what reviews say about my music:
"Bouncing around the jam band scene has taught John how to stand out in a crowd as well as just carry a groove when the song demands it.  He went out and recruited some talented friends to perform his original high energy music incorporating influences from rock, soul, reggae, post-punk, and ska.  Adding some witty and lyrics has created a style that is all John's own". 
indiebandguru
My Kind of Christmas:
John P. Flynn ushers listeners into the Christmas spirit with clever, quirky lyricism and a bouncing Pop feel with his original track, "My Kind of Christmas"!  Bright guitar and piano flow over lighthearted drums and a cheerful walking bass line to provide a warm harmonic foundation for the song's quasi-crooner vocal lead - unwrapping a sense of levity as John P. Flynn describes "My Kind of Christmas" through comical gifts and sentimental scenarios!
 Jon Wright
Home:
 John P. Flynn returns with the release of "Home", from his album Heading for the Sun. Building off of a gritty Fender Rhodes riff, this track quickly locks into a deep reggae groove that's punctuated by a mighty horn section and soulful guitar. "Life is like a desert, without a home" notes Flynn at the start of this introspective rumination on the search for solace. This song really swings hard, and should have no problem finding a "Home" on any Reggae or Jam Band playlist.
 Steven Azami
Looking Out From Within:
"Looking Out From Within" from veteran New Jersey musician/singer/songwriter John P. Flynn is a breezy, easy grooving track from his 2013 solo album Heading for the Sun, now available on all major streaming platforms.  This keyboard heavy arrangement is built around a funky electric piano riff that's bolstered by hammond organ, colored by some incredibly tasty guitar licks, and propelled by a top notch rhythm section that lays down a fantastic, highly danceable groove. Flynn's simple and restrained vocal delivery is perfect for this song that subtly builds momentum throughout, resulting in an exciting and extended outro section that plays out through the final minute of the track. John P. Flynn's "Looking Out From Within" is an easy recommendation for jam band fans, and would make for an ideal summer festival soundtrack!
 Steven Azami
 Mind Slip:
Effortlessly combining the classic sounds of 60s-inspired pop with a modern alternative edge, John P. Flynn's brilliantly flamboyant and utterly charming "Mind Slip" is a terrifically upbeat, hook-riddled piece of songwriting that lovingly whisks together psychedelic-infused melodic guitar textures, rhythmically bouncy bass lines, singalong vocal performances, and a refreshing sense of fun in a way that both excites and elates. With its accessible sound and engaging arrangement, "Mind Slip" proves itself to listening experience that many a diverse music lover can appreciate, and between its acute focus on melody and welcoming sense of character, it firmly cements itself as a tune that is most deserving of that repeat button.
 Andre Avanessian
The Window:
"The Window" is an engaging funk-infused alternative rocker and  will strongly resonate with many a music lovers. Opening with a brilliant funk-lathered intro with syncopated guitar rhythms, hip-sounding jazz flute flourishes, and body-swaying beats, "The Window" nicely settles into its charmingly upbeat and refreshingly quirky tone with ease. John's distinct lyric delivery and the effective, easy to digest arrangement, you're instantly drawn into his wonderfully free-spirited musical style, resulting in a track that is brimming with both character and style. John's ability in being able to effectively draw a number of distinct elements from a number of genres and intricately weave them together is truly inspiring. Dashes of soul, funk, jazz fusion, R&B, and rock perfectly converge in order to create a track that knows how to have fun and perhaps most importantly, implores its listeners to have fun.
 Andre Avanessian